The Legacy Listing
A Proven, Repeatable System
We don't just throw a sign in your yard, and hope for the best. We took a step back, and found the a proven, repeatable system to SELL YOUR HOME today for more profit.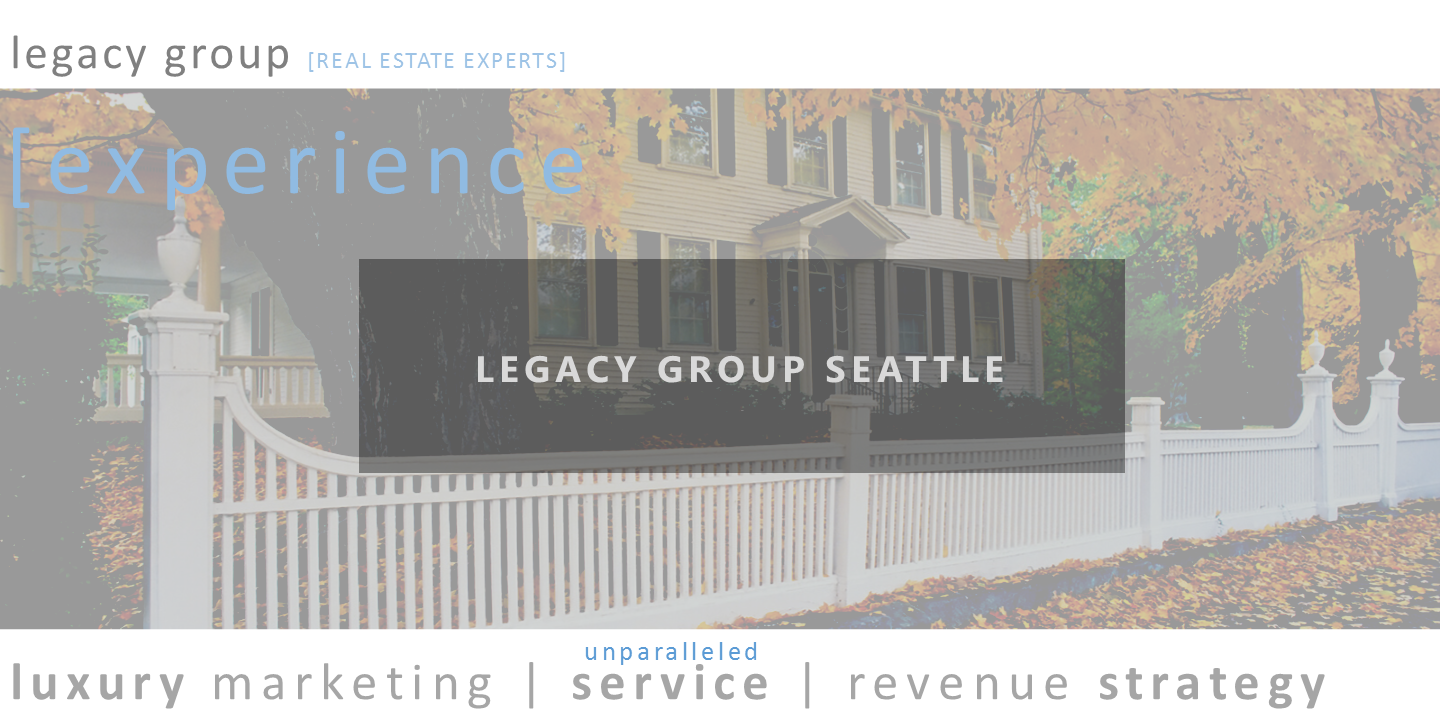 The problem with average agent is they don't spend time or money to market your property effectively. When a proven, repeatable system backed by market research, is in place you will find the results are more leverage, stronger market position and ultimately, more profit. Our client's homes sold for up to 13% more than those sold by traditional real estate agents.
We position your home, so buyers want to get into your house first thing.
We plan even the simple things, using the most recent market data, like what day your home comes on the market putting you at the top of the list for homes Buyers want to see.

Predict what objections might come up putting Sellers in a better negotiating position.
There are over 118 factors to consider in your home sale, and our professionals are prepared to smoothly negotiate them, working within your timeline and assessing your unique needs.


Professional Staging Consultation

Once we go live with your home we will get thousands of on-line visitors coming to our site, so the presentation is very important! We will discuss best practices for showing, advise you of furniture placement, misplaced accessories, and suggestions to reduce clutter with our stager.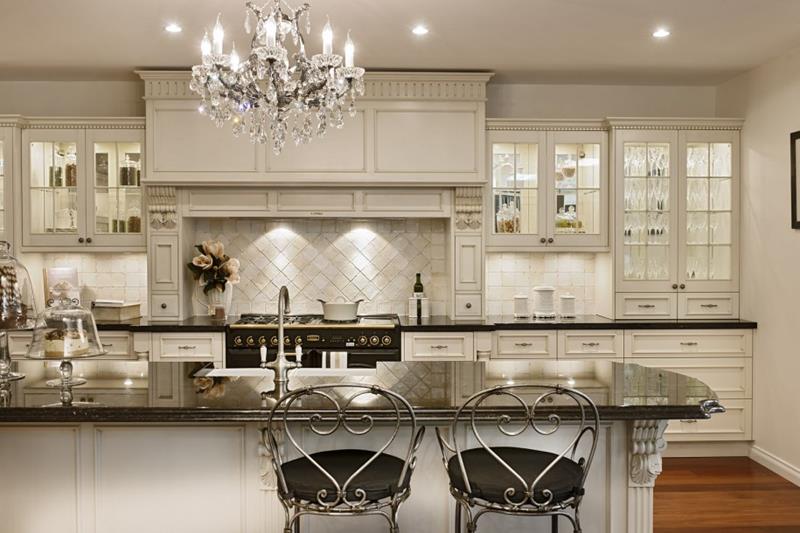 Professional High-Definition Photography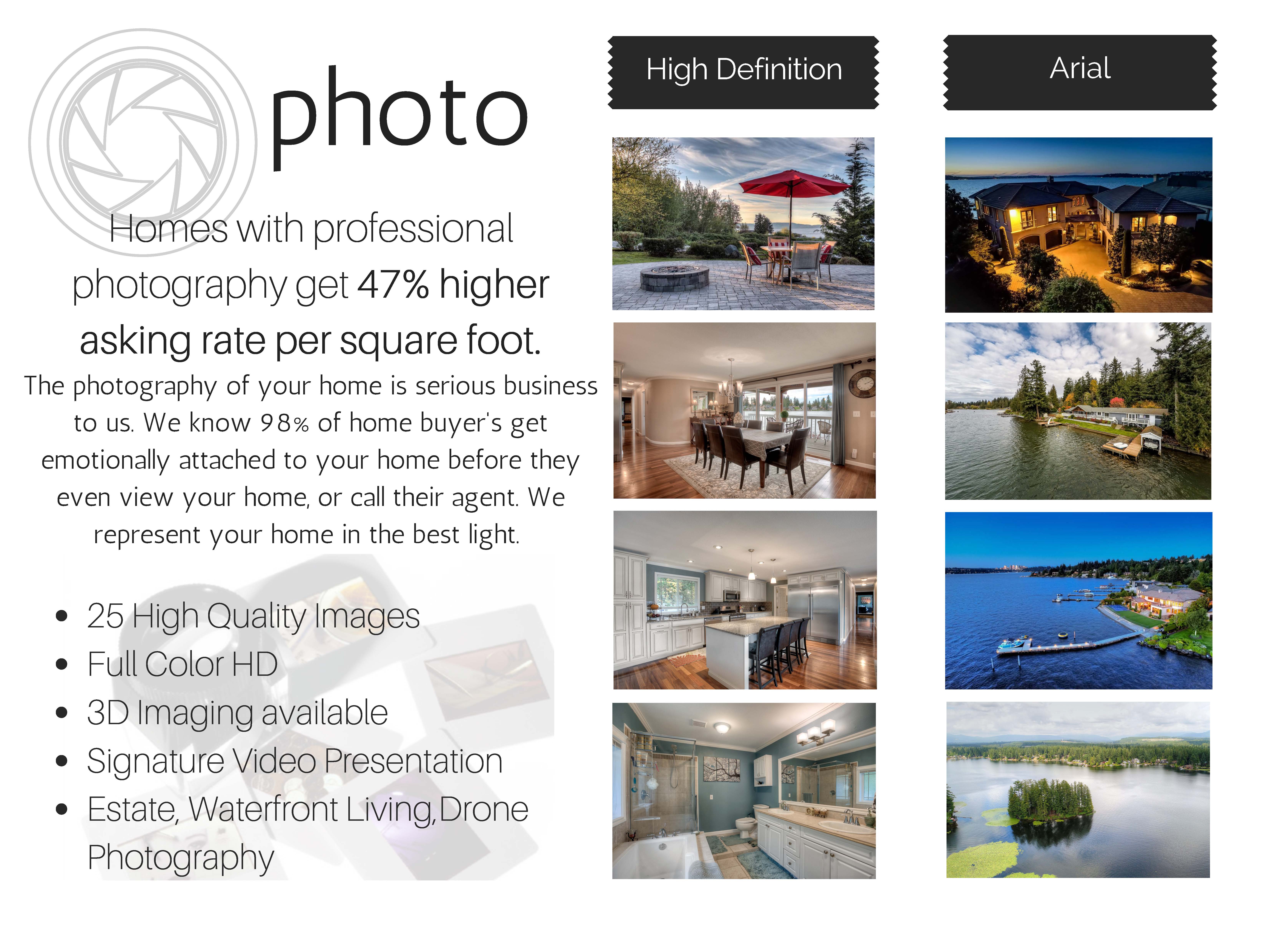 No Fee Lending
3 Ways No Fee Loans Help my Sellers
1. Ever hear of buyer's asking for Closing Costs? It's pretty frequent actually that buyers ask for a seller to pay their portion of the closing costs, which consist of thousands of dollars in lender fees.
Exclusive to Keller Williams and my clients, any house I list will be able to receive the option for the NO FEE LOAN, AND $1000 credit at closing! 100% from Keller Mortgage, not your pocket!
How do you see that helping you negotiate one of these offers?
2. Are you buying Again? Because you saving is the first priority, get these exclusive savings JUST FOR WORKING WITH ME! So your next purchase nationwide will save you all of the Lender Fees and a $1000 credit at closing as long as you are working with Keller Williams. BOOM!
Ok, so you get to save BOTH WAYS!
3. We can market NO Fee Loans! As additional marketing we have ways include info at your open house, riders, and even make your home more affordable at no cost to you.
How do you see this attracting more buyers?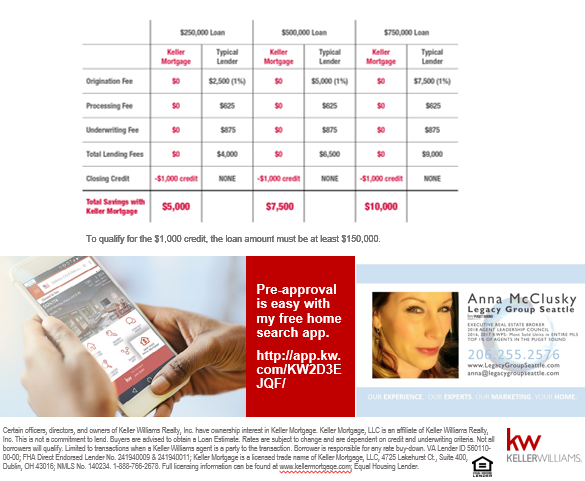 A Team Approach
Working as a team we are able to provide dedicated individual service. Each member our team is hired as an expert in their role handling each portion of a sale with the highest results driven techniques through continued education and market research. One single agent cannot produce the same results.
Expert Advice
The MLS tells us in Washington State the real estate market is full of agents that sell an average of 3-6 homes per year, and often have to carry full time jobs to survive. We believe that lack of experience and availability can potentially harm your sale, proceeds, experience and their knowledge and availability to serve you better.
Our agents work full time in real estate, putting your sale first, and driven to offer you the best experience so you come back again!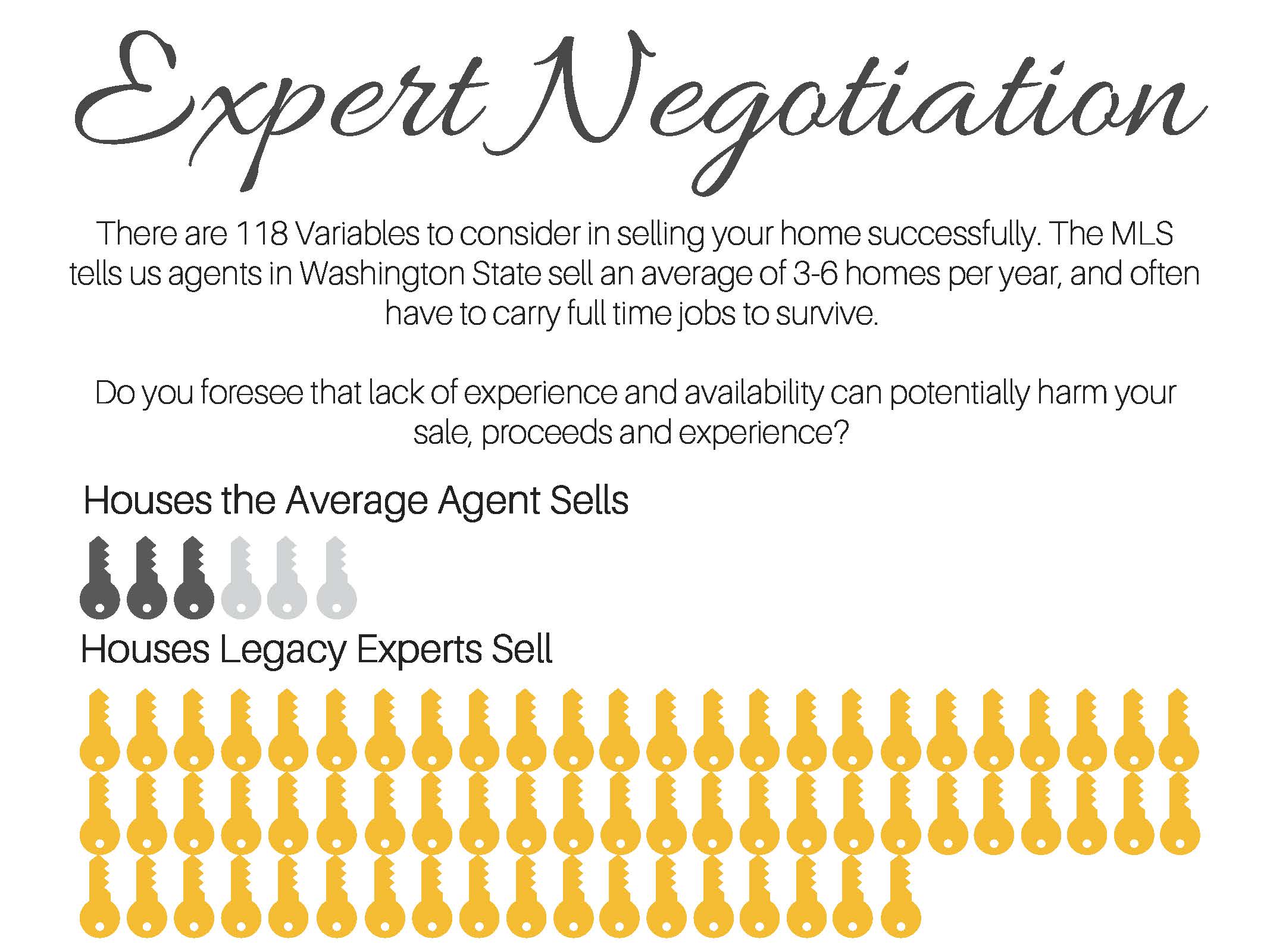 Technological Savvy

We are a bit geeky. (In all the right ways.)
Legacy group takes a lot of pride in our knowledge of Advanced Technological Marketing optimizing how buyers find homes.
You know, all those quirky things that make us see and buy on the internet, we make those work in your favor in order to get as many buyers in front of and into your home as possible.

Targeted Marketing


SEO framing and Front Page Strategy

Your Home Syndicated to over 40,000 websites worldwide

Keyword Marketing and Search Optimization

Drive-By Search Optimization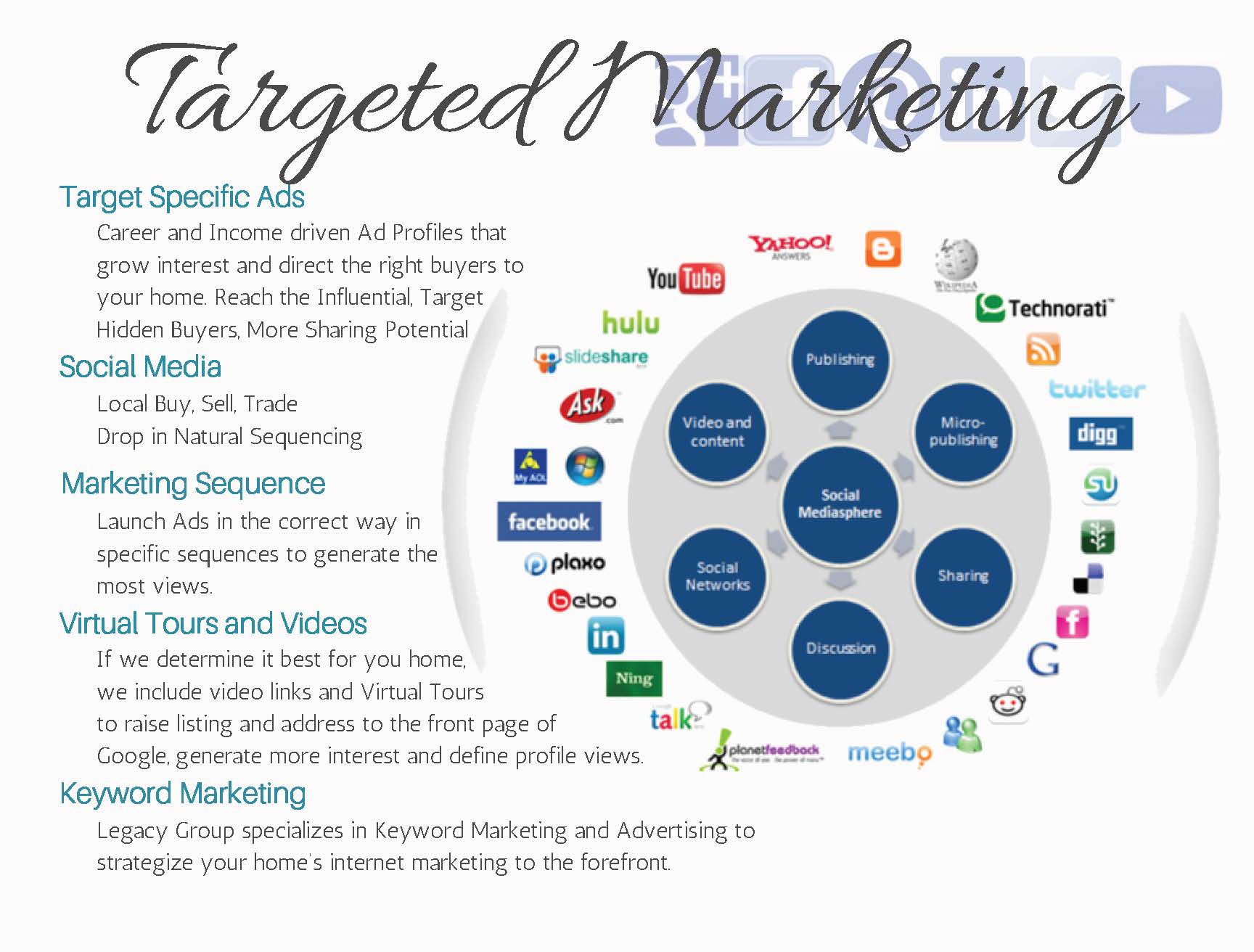 Strategic Targeting
Move Up Buyers

Hyper Local Marketing

International and Relocation Buyers